Featured:

New Park + New Name = Riverside Common; Riverside Wine & Craft Beer Fest is March 24-29; Spring Sale @ Switchback Cyclery

BIA Notices/Reminders:

Commercial Facade Program NOW OPEN;

40 Years, 40 Stories – Share Yours; Dragon's Den Audition Tour Kicks Off; Riverside Filming Notification: March 5-7
2020 Riverside BIA Event Calendar
Upcoming Riverside BIA Member Happenings
Neighbourhood News

: Coronavirus Updates: Toronto Public Health; GTA Heart Map Challenge
New Park + New Name = Riverside Common
A message from Councillor Paula Fletcher – Ward 14,Toronto-Danforth:

Welcome to Riverside Common!
The new park coming to Riverside Square at 667 Queen St. East was officially named at Toronto & East York Community Council.
While Riverside Common fulfills the parkland requirement for the Riverside Square Development it will function more as a plaza and public space for the neighbourhood with opportunities for many kinds of community uses.
This name recognizes our special east end neighbourhood. Thank you to everyone who signed the petition last year.
Current Timeline: Construction is expected to start this Summer.
Riverside Wine & Craft Beer Fest: March 24-29
Tuesday, March 24 to Sunday, March 29 is Riverside's Annual Wine & Craft Beer Fest. It'll be a week-long celebration of Ontario wine, local craft beer and Riverside businesses, featuring: talks, classes and prix fixe events (March 24-29) and the ever-popular Expo (March 28)!
DONATE TO SILENT AUCTION: showcase your business while giving back by donating to our Silent Auction and have a presence at the Riverside Wine & Craft Beer Expo – proceeds go to the RTCC's children's programming. To get involved just email marketing@riverside-to.com
Spring Sale @ Switchback Cyclery
In line with the Spring Toronto Bicycle Show, Riverside's Switchback Cyclery at 651 Queen Street East is offering deep discounts in store this weekend (kicking off Friday March 6th to end of day Saturday March 7th)!
They're clearing out all 2019 bikes at 30 – 40% off and tons of other biking gear and accessories.
30 – 40% OFF 2019 bikes
40% OFF lights, locks & bells
30% OFF helmets, gloves, hats, socks and sunglasses
30% OFF all Muc Off bike cleaning products
25% OFF all other bike accessories
Hours: Friday, March 6th 11:00am-6:00pm, Saturday, March 7th 10:00am-6:00pm
Commercial Facade Program NOW OPEN
Dear Riverside BIA Members –
The City of Toronto's Commercial Facade Improvement Program for 2020 is now open for applications for BIA members.
Property owners, or business tenants with the permission of the owner, may receive up to $12,500 to fund the cost of eligible facade improvements. Additional funds of up to $2,500 are available for accessibility improvements to achieve AODA standards.
Eligible improvements include, but are not limited to: brick cleaning, restoration, doors, signage, windows, lighting, and masonry and wheelchair accessibility.
The deadline says May 7 however the grants are awarded on a first-come-first serve basis. If you need any support in completing your application please don't hesitate to contact Michael.Saunders@toronto.ca
40 Years, 40 Stories – Share Yours
This year to celebrate and commemorate these first 40 years, we'd like to capture and share 40 short stories of the BIA. If you are a current or past: local business or property owner, employee of a local business or organization, resident or visitor – we'd love to hear your story!
These stories will become a blog series, virtual time capsule, and self-guided Scavenger Hunt that will help local people and tourists alike get to know the Riverside BIA in 2020 and for years to come.
If you have a short story, pls share it (ideally up to 500 words plus photos) with us via this link:
Dragon's Den Audition Tour Kicks Off
Dragons' Den Audition Tour Kicks Off in Toronto on Saturday, February 29th! Producers of CBC's hit television show DRAGONS' DEN will be holding open auditions looking for the next big 'thing' in Toronto.
Read More …
Riverside Filming Notification: March 5-7
Questions/Concerns about this filming? Contact:
Randy Morgan – 416-988-6512
David Korchok – 647-717-0437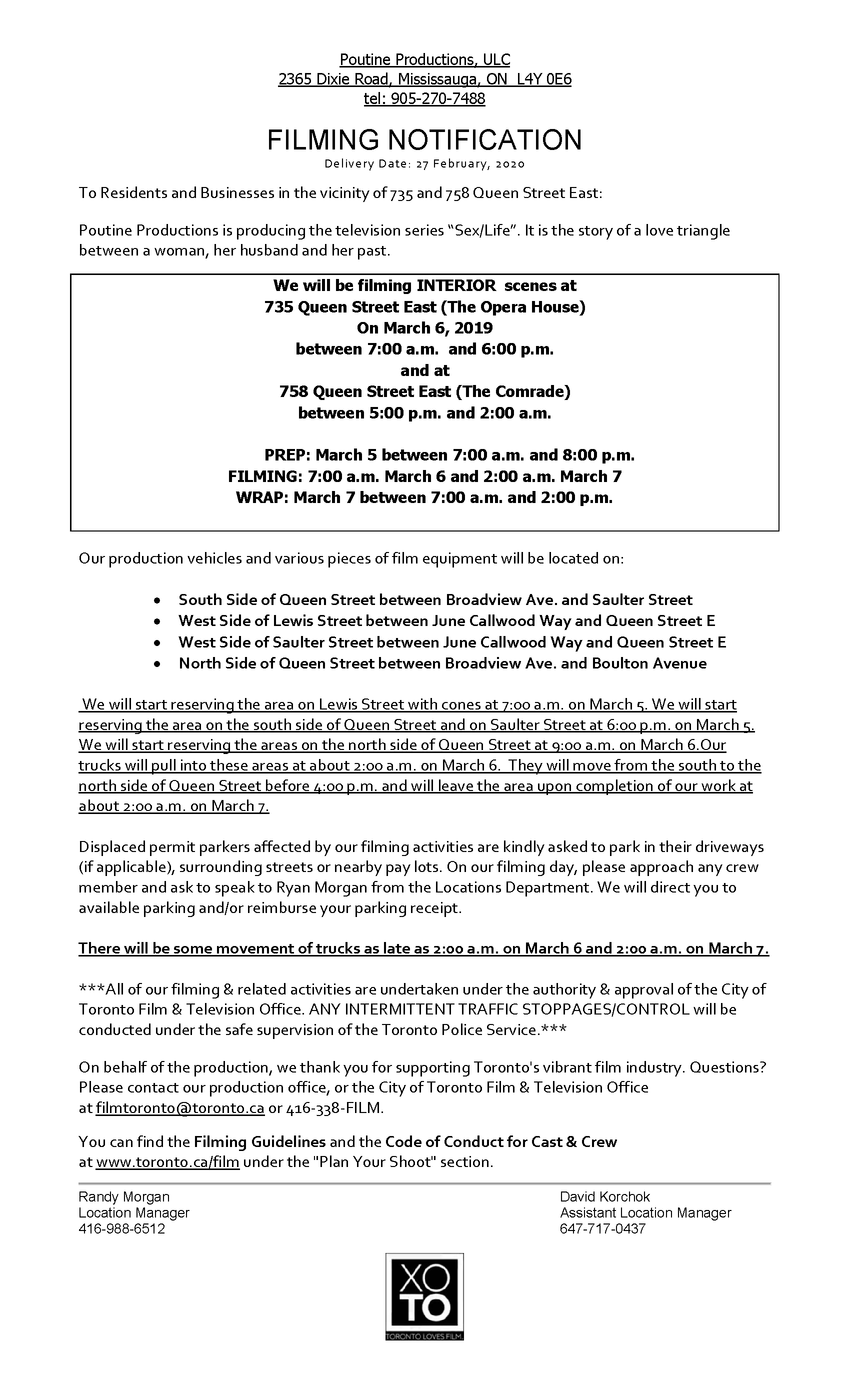 Our 2020 calendar gives you an overview of what's happening this year in terms of Riverside BIA-wide events throughout the year! Email office@riverside-to.com anytime with your questions and to get involved in any BIA events.

P.S. Check out our detailed Riverside Online Events Calendar which showcases BIA member and community events – to get your event posted, submit anytime to office@riverside-to.com
GTA Heart Map Challenge
Automated External Defibrillators (AEDs) save lives if used immediately in cases of cardiac arrest in a public place. There are more than 20,000 AEDs in Toronto alone and they need to be mapped.
Did you know the GTA Heart Map Challenge is on NOW? It's a GTA wide scavenger hunt to find and map every AED in the Greater Toronto Area. There are cash prizes to be won!
Get involved: www.gtaheartmapchallenge.com
Comments
Comments. Tell us what you think...