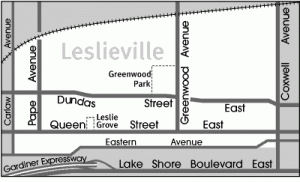 Curious about Leslieville and Riverside?
Leslieville is a neighbourhood in Toronto, Ontario, Canada east of Don River bound by the Canadian National railway line and Gerrard Street to the north, Empire Avenue to the west, Eastern Avenue to south, and Coxwell Avenue to the east. Leslieville's neighbour "Riverside" is the area to the west Carlaw Avenue to the Don River. A beautiful historic part of Queen Street East that feels like a snapshot of old Toronto. Most of Toronto refers to the whole area as Leslieville, but ironically it's Riverside is the term that goes back to 19th Century on maps and city documents.
In 2005 when the New York Times proclaimed Queen East as the new Queen West we knew we were heading in the right direction and when Starbucks landed on the corner of Logan and Queen we knew we were there. A fast and furious gentrification ensued. Leslieville is continually labeled as "The next big thing" but we would rather it not be. We're happy just the way we are 🙂
Leslieville is an artistic community housing a lot of the artistic and creative types including photographers, graphic designers, painters, and musicians.
Its home to a diverse mix of vintage furniture & retro shops, fashion and design stores,cafes and its the hippest place to dine in the city, with reservations now requires at all the cool spots.
From a historical perspective, Leslieville began as a small village in the 1850s, which grew up around the Toronto Nurseries owned by George Leslie and sons, after whom the community is named. Most of Leslieville's residents were gardeners or were employed at one of the brick-making factories in the area.
Alexander Muir, the composer of The Maple Leaf Forever, was the first principal of the Leslieville Public School, one of the first buildings in the village. Muir was inspired when a brilliant maple leaf fell on his jacket from a Leslieville tree. That tree is still standing today and has become a famous landmark in the community.
For decades, South Riverdale was home to light industry, particularly along Eastern Ave. south of Queen St. Metal processing and tanning were notable industries which, along with other industrial activity, left Leslieville and South Riverdale with a legacy of contaminated land. In 2000, the A.R. Clarke Tannery went up in flames, burning for days and unleashing toxic ash on the surrounding neighbourhood. Almost all these industrial areas have now been abandoned and are awaiting redevelopment.
The departure of most local factories have drastically changed the area. The reduction in air pollution have made it much more appealing to home buyers. It is,However, still a largely working-class and middle-class neighbourhood. Adding to the cool factor is that in the former industrial areas (south leslieville),large film studios have opened, including Cinevillage,Showline Studios and Pinewood film studios. Famous hollywood actors are sited on Queen East picking up a latte.
If your a current Leslievillian, riversidian or riverdalian we hope you enjoy it! And if your considering joining our family then welcome!
And, If you are wondering who we are – we are local realtors that love our neighbourhood! We love living in it and selling it. We also know it better than anyone. Let us be your real estate agents! Give us a call anytime to arrange a "no obligation" chat! Take a peek at our bio below if you want to learn more.
Matt Casselman & Ben Ferguson
RE/MAX Hallmark Realty, Leslieville,Riverside & South Riverdale Office.
785 Queen Street East,Toronto
Who are Matt & Ben?
Matt Casselman & Ben Ferguson are seasoned Real Estate professionals with over 30 years of combined real estate experience. They take great pride in their thorough knowledge of Toronto's East End. Matt & Ben have been the top real estate team RE/MAX's Leslieville and Riverside office since its opening.They've successfully produced results in the top 1% ranking of all Realtors on the Toronto Real Estate Board.
Matt & Ben are part of the formidable RE/MAX Hallmark Realty Ltd Brokerage, which is consistently in 1st place and outperforms all other brokerages in the area. RE/MAX Hallmark commands a market share in the east end of 38%. See the statistics here. Matt & Ben are regularly featured as one of the top 100 RE/MAX teams in Canada.
Prior to real estate, as young entrepreneurs in their teens, Matt & Ben started their careers in the music and nightclub industry. Matt is considered a celebrity amongst some and known by his alias dj Matt C. Ben is a networking and social media guru known to find innovative and unique ways to promote the homes they have for sale. Matt and Ben are extremely well connected to many prominent people in the city of Toronto. They have fostered precious industry contacts and business expertise – yielding results in Real Estate sales which are second to none.
Matt & Ben are very respected among their peers and always treat their clients with sincere professionalism, respect and kindness.
Very connected and experienced – put the Matt & Ben team to work for you!