The shops, galleries and restaurants of Leslieville invite you kick off the Holiday season.
Thursday November 15th 2010, 6pm-10pm
Queen Street East (Logan to Leslie)
Follow our gnome on Twitter @ WanderlustGnome.
Play along with this year's Holiday Wanderlust Adventures and enter a draw to win TWO great gift baskets of swag!.
Gnome Statue Scavenger Hunt: Visit all our participating businesses, find all 5 Leslieville Gnomes to enter the draw to win!Wandering Gnome Raffle!: Leslieville's Wandering Gnome will be visiting all participating businesses; find and sign up with the Gnome to win (Queen E., near Jones).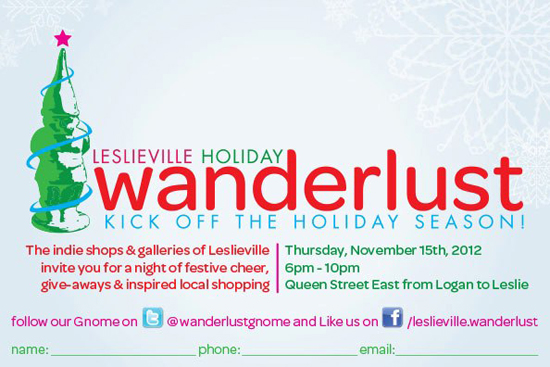 Comments
Comments. Tell us what you think...