Leslieville & Riverside have a Hollywood connection. We may be a long way away from Tinseltown but as we all know Toronto is a popular filming location for major motion pictures. The East End houses several movie studios and with that, our end of the city has seen its fair share of location scouts. Have a look below for a few of the films/shows that we've found that have filmed in our neighborhood.
Are you aware of any more?  Please comment below.

A Christmas Story (1983)
Filmed in 1983, this Canadian Christmas classic was shot across Toronto with plenty of the film taking place in the East End.
Have a look below at the following scene shot near Gerrard and Logan at 744 Gerrard Street East (Currently the french restaurant Batifole.)
And here is a shot taken from a shoot they did at Sears street at Minto (Off Eastern, near Leslie Street)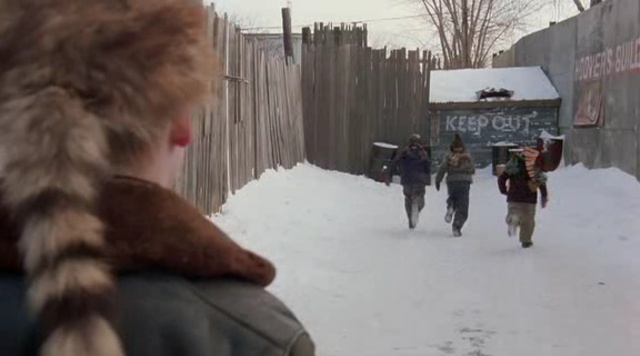 "Based on the humorous writings of author Jean Shepherd, this beloved holiday movie follows the wintry exploits of youngster Ralphie Parker (Peter Billingsley), who spends most of his time dodging a bully (Zack Ward) and dreaming of his ideal Christmas gift, a "Red Ryder air rifle." Frequently at odds with his cranky dad (Darren McGavin) but comforted by his doting mother (Melinda Dillon), Ralphie struggles to make it to Christmas Day with his glasses and his hopes intact." -google.com

Police Academy 1 (1984)
This classic is a must-see for cinephiles and comedy-lovers a like, with scenes shot in the Beaches!
"When the mayor of a crime-ridden city loosens the restrictions on entering the police academy in order to get more cops on the street, all manner of oddball characters enlist to join the force. Among the cadets are suave Carey Mahoney (Steve Guttenberg), hulking Moses Hightower (Bubba Smith), beautiful Karen Thompson (Kim Cattrall) and sound effects-generating Larvell Jones (Michael Winslow), who all have to show initiative and courage when they are faced with tough situations out on patrol."-google.com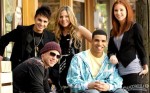 De Grassi
We all know about the Canadian television staple which has spawned four shows based on the East End street. Degrassi is shot all over Toronto, including our neighbourhood!
"The young lives on Degrassi Street are always rife with problems. Whether it's about sexuality, growing up, drugs or parents, there's always something going on in the high school and at their homes. The long-running, multiple award-winning series follows the characters in a soap opera-type format as they endure the pangs of transitioning from childhood to adulthood." -google.com
Here is an episode from Degrassi Junior High from season 1 called "SmokeScreen". Can you see any Leslieville sites in this episode? Hint : Skip forward to 15:51

Cocktail (1988)
This 80's Tom Cruise movie has plenty of scenes shot in a bar called 'Cell Block'. It just so happens that the set was built at our local Don Jail. Check out a scene shot on the East End below.
"Brian Flanagan (Tom Cruise) wants a high-paying marketing job, but needs a business degree first. Working as a bartender to pay for college, Flanagan is mentored by his veteran boss, Doug Coughlin (Bryan Brown). Together, their showy tricks and charisma command large crowds and tip payments — until Flanagan and the cynical Coughlin have a falling out. Flanagan moves to Jamaica to raise enough money to open his own bar, where he falls in love with artist Jordan Mooney (Elisabeth Shue)."- google.com
Remember (2015)

This upcoming 2015 film with veteran Canadian actor and Oscar winner Christopher Plummer shot in Leslieville from July until August of last year.
"The darkest chapter of the 20th century collides with a contemporary mission of revenge."-imdb.com

Virgin Suicides (1999)
High school scenes were shot at Monarch Park Collegiate. Check out the shot of the school in the trailer below.
"In an ordinary suburban house, on a lovely tree-lined street, in the middle of 1970s America, lived the five beautiful, dreamy Lisbon sisters, whose doomed fates indelibly marked the neighborhood boys who to this day continue to obsess over them. A story of love and repression, fantasy and terror, sex and death, memory and longing. It is at its core a mystery story: a heart-rending investigation into the impenetrable, life-altering secrets of American adolescence."-google.com

MOONSTRUCK (1987)
"Though fictionally set in New York City, virtually all the set interiors for this film with Cher and Nicolas Cage were shot here at the old Leslie Street Studios."-insidetoronto.com

Cosmopolis (2012)
David Cronenberg has used Toronto as a backdrop in several movies, including Crash, in which the Don Valley Parkway makes a cameo appearance. Early in Cosmopolis, Robert Pattinson, as Eric Packer, steps from between the columns of Union Station to a row of identical white limousines. The rest of the movie showcases and later questions Packer's obsession with repetition and symmetry.- blogto.com
Narc (2002)

This movie released in 2002 was partly shot at a house at Main & Gerrard!
"Tells the dark story of suspended undercover narcotics officer, Nick Tellis (Jason Patric), who is reluctantly drawn back onto the force to find the truth behind the murder of a young police officer killed in the line of duty. He is teamed with Henry Oak (Ray Liotta), the slain officer's partner, a rogue cop who will stop at nothing to avenge his friend's death. As Tellis and Oak unravel the case, the dark underbelly of the narcotics world reveals itself in surprising ways."-google.com
Comments
Comments. Tell us what you think...