St. Patrick's Day is this Saturday March 17th- here are 5 east-end bars/pubs where you can go to celebrate!
—
THE ROY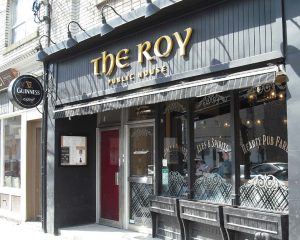 894 Queen St E, Toronto, ON M4M 1J3
Join Leslieville's authentic Irish pub The Roy for their St. Patrick's Day event featuring live music from 3:30PM – 10:30PM.
"A taste of Belfast in Leslieville. The finest pub fare, whiskies and imported/local draughts in Toronto's east end. Open daily for lunch & dinner. Traditional Irish breakfast served on weekends and holidays." –www.theroy.ca
THE CEILI COTTAGE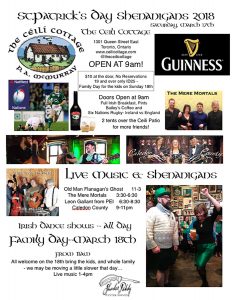 1301 Queen St E, Toronto, ON M4L 1C2
The Cieli Cottage is hosting a St. Patrick's Day Shenanigans event! Beginning at 9:00 AM it's a full day of live music, Irish dance shows and shenanigans. Saturday March 17th will be 19+ however Sunday March 18th will be open to the whole family!
"Homey Celtic pub with hearty Irish fare & oysters, plus a long whisky list & heated winter patio." – www.ceilicottage.com
PROHIBITION GASTROHOUSE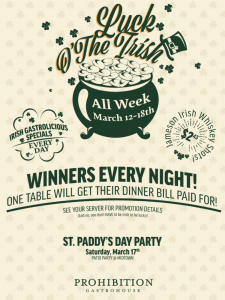 696 Queen St E, Toronto, ON M4M 1G9
Visit Prohibition for a week of St.Patrick's Day fun where every night one lucky table will have their dinner paid for! Plus you can enjoy $2.43 Irish whiskey shots, special Irish items on the menu all week long and a full special menu for the 17th.
"OUT FOR DRINKS, A MEAL, OR TO PARTY & DANCE THE NIGHT AWAY? You'll love our selection of high quality booze, our music & videos, and our freshly made food.
We work hard to make you feel welcome in our house so you can have a great time!" – www.myprohibition.com
DUNDAS & CARLAW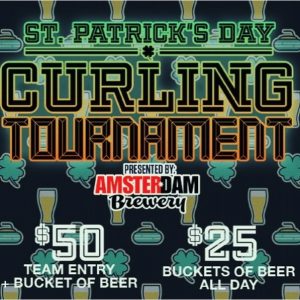 1173 Dundas St E, Toronto, ON M4M 3P1
Dundas & Carlaw is hosting a Curling Tournament for St. Patrick's Day! Visit the link for team registration.The games start at 1:00PM.
"Upbeat wine & coffee bar with a patio offering java, local cult beer & a strong vino selection."- www.dundasandcarlaw.com
RORSCHACH BREWING CO.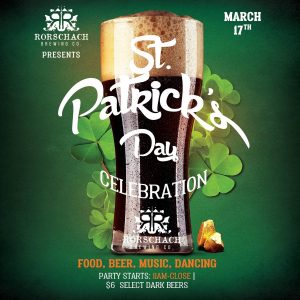 1001 Eastern Ave, Toronto, ON M4L 1A8
Visit the Rorschach Brewing Co for a full day of St.Patrick's day celebrations. Enjoy $6 select dark beer, Irish fare and a dance party after dark.
"Set in a century-old home, this brewpub offers creative ales plus internationally inspired snacks." – www.rorschachbrewing.com
---
HAPPY ST. PATRICK'S DAY!
Comments
Comments. Tell us what you think...