Check out this update from our local Riverside BIA!

—
Featured: Riverside Featured on Scotiabank Toronto Waterfront Marathon 2018 Medals; Riverside Walks for Doors Open Toronto; Riverside Eats & Beats Streetfest Blog Series
BIA Notices/Reminders: Filming Notification in Riverside; Construction Notice for Sidewalk, Curb and Road Repairs on Queen E; Welcome Riverside BIA Summer Interns; Replacement of Riverside BIA Benches; Spaces for Lease in Riverside
Upcoming Riverside BIA Member Happenings
Neighbourhood News: Supporting Canadian Small Business – note from MP Dabrusin; Notice of Development Charge By-Law
Riverside Featured on Scotiabank Waterfront Marathon 2018 Medals

Photo opp on the bridge with 100 runners and VIPs

Dave Watson, Director on the Riverside BIA Board and owner of Eastbound Brewing Co, was on hand to receive the framed medal on behalf of the BIA and host the Eastbound after party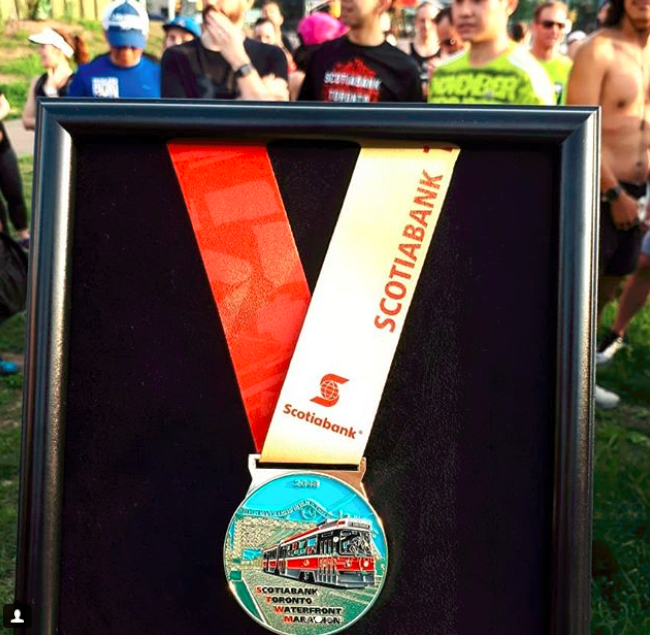 Framed medal featuring the Riverside Bridge and TTC streetcar, now at the Riverside BIA office
On May 17th, the Riverside BIA took part in the 2018 Scotiabank Waterfront Toronto Marathon's secret Medal Reveal Night! For the big Reveal, the Riverside BIA got together with 100 runners, our local Councillor Paula Fletcher, the Canadian Running Series (CRS) team and medal artists', to unveil the medal and do a special photo opp in partnership with the TTC which stopped traffic on the bridge.

The 2018 Finishers' medals feature the Riverside bridge with a TTC streetcar, something which has become a symbol of our neighbourhood. Ever since the bridge's iconic art was commissioned by the BIA and City in the 1990s, this image has been an important daily fixture and inspiration, along with the streetcars that pass through every few minutes. The message of the medal is the ever-changing, dynamic yet resilient neighbouhrood and city made by many community-builders. This mirrors the mission of the CRS to work together to use running as a platform to build a healthier, happier, more sustainable city and showcase it to the world.

The Riverside BIA is so proud to have been a part of the big reveal this year, and to have received a copy of this amazing medal which will be proudly displayed in our office. Big thanks to Councillor Fletcher and Canadian Running Series!

Read the full Scotiabank Toronto Waterfront Marathon Medal Reveal Media Release
Riverside Walks For Doors Open Toronto
As part of the Riverside Walks 2018 series, the Riverside BIA is excited to debut a new Riverside Walk as part of the Doors Open Toronto official guided walking tours series on May 26th and 27th: in the theme of Film!
Riverside neighbourhood has been a film and TV hotspot for decades thanks to the area's film-friendly 'doors open' policy. Home to the famous De Grassi Street which inspired the Degrassi TV series, Riverside has been transformed for "Cinderella Man" (2005), and more recently hosted shoots for TV series such as "Handmaid's Tale" and "Taken". The Riverside BIA's tour will have you walking on De Grassi Street and in Bruce Mackey Park to learn about the origins of the TV series. Guests will also learn about filming at iconic Toronto's landmarks including The Opera House, Stephan Caras Intl, and The Broadview Hotel and more.
Check out the walks here on the Doors Open website!
Riverside Eats & Beats Bog Series
With promotion of Riverside Eats & Beats festivities in full swing -and the countdown on – check out and please help share our blogs about all the fun and fatantastic activities, live music, hot eats and hot buys that the festival will host!

Eats & Beats Blog Series:
Filming Notification in Riverside
To Residents & Businesses in the vicinity:

Filming of INTERIOR scenes will take place at
The Broadview Hotel – 106 Broadview Ave.
Monday, May 28th, 2018 between the hours of 7am – 11pm
PREP: May 28th – 5am – 9am
FILMING: May 28th – 9am – 9pm
WRAP: May 28th – 9pm – 11pm
Our production vehicles and various pieces of film equipment will be located on:
• North side of Thompson St. between Hamilton St. to Broadview Ave.
• West side of Hamilton St. between Queen St. East to Thompson St.
• On private property behind 106 Broadview Ave.
We will begin reserving the above areas with cones on May 26th at 8am, with vehicles arriving May 27th at 10am, and departing May 28th by 11pm. Displaced permit parkers; on our filming day, please approach any crew member and ask to speak to Sari Miettinen and Nabil Badine from the Locations Department. We will direct you to available parking and/or reimburse your parking receipt.
Contact: Sari Miettinen, Location Manager, 416.871.0704 or Nabil Badine, Assistant Location Manager, 416.854.6028

Construction Notice for Sidewalk, Curb and Road Repairs on Queen E
Note from City of Toronto:

Contract: 17TEY- 102TU, Start Date: May 16, 2018, End Date: June 6, 2018.
The City will be repairing cuts made to the sidewalk, curb and/or road by utility companies, private contractors and the City when installing / repairing underground infrastructure (water, sewer, natural gas, cable, etc.). The repairs will take place on Queen St E from Davies Ave to Greenwood Ave. Work may include the closure of individual lanes or the entire road. Repair work will be coordinated with any maintenance work required with the City's right-of-way.
Property owners in the construction area are advised to remove any items installed or planted beyond the private property line and in the City-owned right-of-way that may impact construction.
Work Hours: Work will take place from 7 a.m. to 5:30 p.m., Monday to Friday, with work after hours and on weekends as required.
Questions? Leo Tulchinski, 416-435-7610, leo.tulchinski@toronto.ca
Welcome Riverside BIA Summer Interns

Kayla (at left) and Lais (at right)
The Riverside BIA office is overjoyed to have the support of wonderful summer interns, thanks to support from Canada Summer Jobs and TDSB. Please join us in welcoming Kayla and Lais!
A Note from Kayla: I'm an urban planning enthusiast and a recent graduate of U of T. I'm excited to be working with the BIA and especially looking forward to getting to know Riverside. When not working at the BIA, I enjoy enjoy reading a good book in a park, but you can primarily find me running around the track as a Varsity athlete on the U of T track team. In the fall I'll be pursuing a Masters of Urban Planning in Seattle.
A Note from Lais: I graduated in business and have a post-certificate in Marketing with a few years of experience in project management. I recently moved here from Brazil and I already love Toronto and the spring here! I'm so excited to get to learn more about Riverside and its business, and meeting its people. In less than a week I was already able to see a strong community engagement here.
Replacement of Riverside BIA Benches
As shared in 2017, the Riverside BIA area is replacing its aging black metal benches for new City of Toronto mini benches. As of this week this work got underway.
You may have noticed these new benches have began to be installed – 5 so far – and more in the coming weeks for a total of 15 new benches. Next week, the Riverside BIA office will be removing the old BIA benches, so pls bear with us during this time of transition where there may be a gap between the old benches being removed and the new benches coming in.
If you have any questions pls contact office@riverside-to.com or 416-466-8167.
Commercial Spaces for Lease in Riverside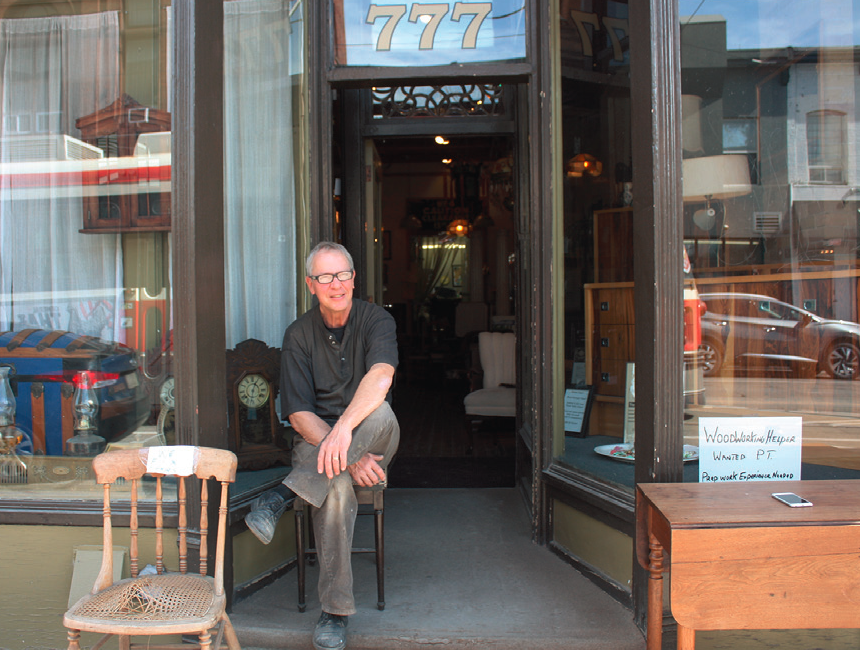 Prime Spaces for Lease along Riverside's Queen St East:
Available Aug 1, 2018:
733 Queen Street East, 550 sq feet with Basement and Loft
Contact 416-466-0313 x 2 or email athena@theoperahousetoronto.com
Available Fall 2018:
777 Queen St East, front section of Elbers Antique store (1,100 sq ft)
Ideal tenant in clothing, retail, office business (no food/hospitality)
Inquiries: Ron at 416-466-3938 or ronelbers@rogers.com
Supporting Canadian Small Business – A Note from MP Dabrusin
The Government of Canada is cutting taxes on small businesses to help them invest, grow and create jobs. they have lowered the small business tax rate from 11% to 10% in January 2018, and then to 9% in January 2019.
Toronto-Danforth MP Julie Dabrusin visited Riverside businesses this week to let them know about this tax rate cut. If you would like to get in touch with MP Dabrusin contact: 416.405.8914, JULIE.DABRUSIN@PARL.GC.CA
Notice of Passing of Development Charge By-Law
Development charges are levied against new development to pay for the increased capital costs related to the provision of municipal services. The by-law levies development charges against all lands, buildings or structures within the City of Toronto, subject to exemptions contained in the by-law.
The charges in By-law No. 515-2018 pursuant to Section 2 of the Development Charges Act, 1997, S.O. 1997, c.27 came into force on May 1, 2018 and will apply to all new residential and non-residential development, subject to certain terms, conditions and limited exemptions as identified in the by-law. The development charges imposed by the by-law are available here.
Comments
Comments. Tell us what you think...
Leslieville/Riverside News: #RiversideTO BIA Weekly Update