Check out this update from our local Riverside BIA!
—
Featured: Clean Riverside Together April 20th & 22nd; Riverside Blog Series: It's Easy Being Green in Toronto's Riverside; Update from 19th: 'Let's Talk Business + Community in Riverside & Leslieville'
BIA Notices/Reminders: Riverside Walks 2018 Schedule is Live; Free Tickets to Buy Good, Feel Good Expo for Riverside BIA Members; Lakeshore East Rail Corridor Expansion Update; Ratepayers' Survey on Residential On-Street Permit Parking; Digital Main Street Support in Riverside Extended to May 4 – Book Your Time; Space for Lease in Riverside
Upcoming Riverside BIA Member Happenings
Neighbourhood News: Relief Line Notices & Updates; Ralph Thornton Community Centre Seeking Board Members
Clean Riverside Together: April 20th-22nd

Rivertowne/Riverside Clean Up 2016

Riverside/Rivertowne Clean Up 2015

Riverside/Rivertowne Clean Up 2013

As part of efforts throughout Toronto, Riverside is joining the over 200,000 residents, students, businesses, organizations and community groups as we come together for the 15th annual city-wide cleanup of public spaces.

Join in Riverside Clean ups, including:
Friday, April 20th: 1:30pm Meet outside the Ralph Thornton Community Centre (765 Queen E) to get gloves and bags for clean up of Queen St E, Saulter St, Saulter Street Parkette, and McCleary Playground.
Sunday, April 22: 10AM-12PM: Meet at Thompson and Munro to collect your gloves and bags for clean Up of Joel Weeks Park and streets and laneways in and around Rivertowne and Riverside – south to Queen E, west to Davies, north to Dundas, east to Broadview. Refreshments from Tim Hortons provided!
Blog Series: It's Easy Being Green in Toronto's Riverside
Earth Day is coming up and it's a great time to check out the many ways you can be green everyday in Toronto's Riverside. Bit by bit, everyday actions do add up, and our guest blogger and Riverside resident and local business owner Karen Lloyd of k-media, is back to share some favourite eco-friendly businesses right here in Riverside and how they help us all become better citizens of the planet.
Check out her blog featuring Riverside's Common Sort, Butchers of Distinction, Arts Market, Riverdale Trading Co and more!
Update from April 19th: 'Let's Talk Business + Community in Riverside & Leslieville'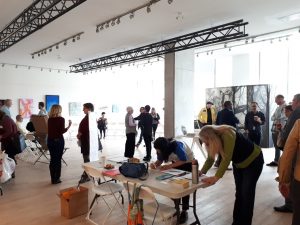 On April 19th, we had the start to a very positive, progressive and open conversation about issues in the Riverside and Leslieville community, such as crime, safety, gentrification, overdose crisis, mental health concerns, and homelessness. These issues are certainly not unique to our communities but they are here and are very real in our day to day experiences.

Thanks to the 30 representatives from local community agencies, businesses, BIAs, the City of Toronto, including people with lived experienced, who came out to share their voices, experiences and opinions – we heard that no one is alone, we all care, there are lots of existing resources and work being done in our communities, and there is an interest and will all around to continue to talk and take short and longer term action to work together collectively to improve our communities.

This is just the start, and we will keep updating on opportunities to get involved and resources available, as this conversation continues. Contact Riverside BIA anytime to learn more.
Riverside Walks 2018 Schedule is Live!
Riverside Walks is back starting May 6th! 'Riverside Walks' is the Riverside BIA's series of complimentary local guided walking tours throughout the spring, summer, and fall (May-Oct). Free to the public, thanks to support from the Riverside BIA and our 2018 Walks Sponsor Team Sheppard RE/MAX Hallmark, the Walks series showcases Riverside's diverse culture, art, heritage, and culinary delights – catering to a wide variety of interests. All walks are led by local residents and Riverside personalities.

First Up in May::
Wild Plant Walk in Riverside |May 5, 11AM-1PM| Led by Clinical Herbalist Danette Steele Register Now
Riverside Walks for Doors Open Toronto |May 26 & 27, 10AM-12PM & 1-3PM | Led by Ron Fletcher & others | Registration Coming Soon Via Doors Open
Get the full schedule of 2018 Riverside Walks here on the Riverside website
Free Tickets to Buy Good, Feel Good Expo for Riverside BIA Members
Again this year, the Buy Good. Feel Good. Expo will be coming to Toronto May 11th-13th, connecting you to brands that change the world through sustainable and fair trade practices.
The show is inviting Riverside BIA members to take part with its FREE ticket offer!
To claim yours, just go to:
https://www.tix123.com/tix123/eTic.cfm?code=BGFGE18
Promo Code for Opening Reception: Riverside
Promo Code for Public Days: RiversidePD
Feel free to share with your staff, family and friends!!
Lakeshore East Rail Corridor Expansion Update
Message from Metrolinx:
Metrolinx, an agency of the Province of Ontario, is working to transform the way the region moves by building a seamless, convenient and integrated transit network across the Greater Toronto and Hamilton Area (GTHA).

Metrolinx is currently performing overnight track work along the Lakeshore East rail corridor over the next few weeks. Starting on Friday April 20, 2018, overnight track work will take place between the Don River and Dundas St. E. Work will take place between 10:00pm and 5:00pm.
This work requires the use of excavators, hydraulic and hand tools, equipment and trucks with audible back-up beepers. We do as much as possible to minimize the effects of the construction on our neighbours. However, this work will create some noise from trucks, moving of materials and equipment, and some ambient light from the work site.
Questions? Contact: Jody Robinson, 416-202-7210 / jody.robinson@metrolinx.com

Ratepayers' Survey on Residential On-Street Permit Parking
Message from City of Toronto:
Hello ratepayers, resident groups and BIAs in Toronto & East York,

In October, 2017, Toronto and East York Community Council directed staff to solicit feedback from residents on the proposal to provide Residential On-street Permit Parking on streets that do not have permit parking in Toronto and East York District.

Visit the consultation webpage to subscribe for updates by email and to take the survey: www.toronto.ca/TEYpermitparking
Digital Main Street Support in Riverside -Extended to May 4th – Book Your Time!
Based on great success working with Riverside BIA businesses this year, Digital Main Street is extending Ricardo's time with us until May 4th!! He will be in Riverside the week of April 16-20 and April 30-4. As a member, you can receive support on website, social media, SEO, Google My Business, enhanced Google 360 photos and more. Ricardo will be providing up to 10 hrs of 1:1 support to Riverside BIA members on a first come first served basis.
To Book Your Time with Ricardo visit https://dmsriverside.youcanbook.me
Space for Lease in Riverside
Prime Riverside Location for Lease at 734 Queen E!
One Parking Space in Lane Way.
Main Floor High Ceiling.
Established High Count Pedestrian Area With Great Exposure On Queen St E,
List Price $6000.00 Net Rent. Space Is 1,632sqft.
Relief Line South – Notices & Updates
Based on approvals at City council in May 2017, the City of Toronto is moving forward with commencing its transit project assessment process for the Relief Line south. Get the latest news and information on the Relief Line South website: http://reliefline.ca/south/ and specifics on upcoming meeting here.
Comments
Comments. Tell us what you think...
Leslieville/Riverside News: #RiversideTO BIA Weekly Update