Check out this update from our local Riverside BIA!

—
Featured: THANK YOU + Photos from Light Up Riverside; Window Wonderland Contest is back!
BIA Notices/Reminders: Antler Breakfast is Dec 14th, Did You Get Your Tickets?; StopGap Ramp's Stickers, Do You Have One?
Upcoming Riverside BIA Member Happenings
Neighbourhood News: Help End Bike Theft; Port Lands Revitalization.
Submit YOUR Riverside news/events via office@riverside-to.com
THANK YOU + Photos of Light Up Riverside!

It was a great event full of great moments at our annual tree lighting!
Despite the light rain that fell all day, Light Up Riverside was a success!
It was inspiring to once again see the Mustard Seed Courtyard packed with kids, smiling faces, and lovely meeting and catching up with so many of our neighbours and friends.
BIG THANKS to our 2018 Light Up Riverside co-sponsors: BIA members Baird MacGregor who served up hot drinks and warm smiles and Gillis & Kennedy RE/MAX for the amazing gift basket prize!​
Check out the amazing memories here!!

#WindowWonderland Contest is ON!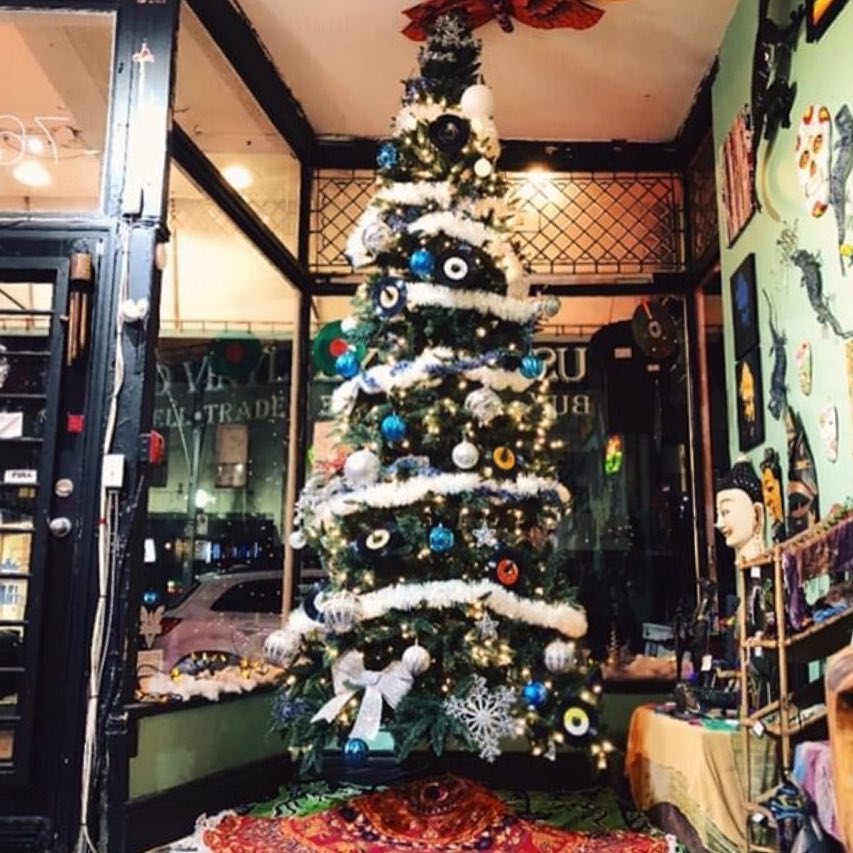 Now that we kicked off the holiday season, the shops have decorated their window for the #WindowWonderland Contest! This holiday season, as you walk and shop along Queen St East, snap a photo of your favorite window and share it on Instagram using the #RiversideTO and #WindowWonderland hashtags! Don't forget to follow the @Riverside_bia profile as well!!

The Instagram photo with the most "LIKES" will win a $100 gift card to the Riverside establishment in the picture!

The contest runs until December 12th. So, what are you waiting for?

Check a few samples of them on our blog post!
Riverside Antler Breakfast is Dec 14th!
Join your neighbours at the crack of dawn for some hearty eats, great company, fun entertainment and of course, your antlers – all in support of a good cause: all proceeds support the Rivertowne Breakfast Program, which provides a hot breakfast to youth, families and anyone in need every Friday, year-round!!

It all happens at The Ralph Thornton Community Centre (765 Queen E, 2nd Fl). This amazing charitable event is organized and supported by the Riverside BIA, Toronto Food Tours, The Ralph Thornton Community Centre, and the Rivertowne Safety 1st group.

To be an Elf or Reindeer Sponsor contact the BIA or Ralph Thornton Community Centre!

Get your tickets here!
StopGap Stickers, Do You Have One?
You have a StopGap ramp at your businesses but you only put it outside when someone is in need?
Increase people's access to your business by letting them know that you have a ramp!
We have StopGap stickers so you can place it on your window and people can ask you for the ramp!
Contact the BIA Office to get one!
#EndBikeTheft: Cycle Toronto Action Plan
Recovery rates of stolen bikes are abysmal. We hear time and time again that theft is preventing people from riding. The current system isn't working.
Here's our three-step action plan.
1. Deploy
2. Educate
3. Engage
If we can pull together broad community support, the Toronto Police, and the City of Toronto, we hope to be able to reduce theft by at least 20%, and increase recovery rates to over 1% within the first year.
You can help make this all happen. Learn more here!
Apply free for Garage 529 here!
Revitalization of Toronto's Port Lands!
Over a decade in planning, the project is implementing a comprehensive strategy for flood protection of the Port Lands, which are at risk of flooding under a significant storm event. The project will remediate contaminated lands and unlock new land for development and provide critical flood protection.
With this flood protection infrastructure in place, the Port Lands will begin its transformation into new communities, surrounded by parks, green space and residential and commercial development, including affordable housing, which will change the face of Toronto's eastern waterfront.
Learn more about here.
Comments
Comments. Tell us what you think...
Leslieville/Riverside News: #RiversideTO BIA Weekly Update