Check out this update from our local Riverside BIA!

—
Featured: NOW Readers' Choice Award results are in!; Shop the Neighbourhood, Will You Take Part?; Doors Open 2019 Call for Proposals
BIA Notices/Reminders: Riverside Magazine Ad Opportunities; Are you Planning on Hiring?
Upcoming Riverside BIA Member Happenings
Neighbourhood News: Toronto Love Project & Bells of Peace; Peruvian Photography Exhibit and Pop-up Shop at The Riverdale Hub
Submit YOUR Riverside news/events via office@riverside-to.com
The Results for 2018 NOW Readers' Choice Award are Live!
The readers made their choice and we're happy to share it with you some Riverside love!
After a long waiting period, the results for the Annual NOW Magazine Award for the Best of Toronto are in.
Congratulation to all the 14 businesses nominated and to the winners! You all are part of an amazing neighbourhood that community values so much!
Check the nominations here and here!Check the winners and runner-ups on our blog!
Shop the Neighbourhood, Will you Take Part?

We are already counting down the days to Light Up Riverside & Shop the Neighbourhood on Nov 24th!

All Riverside businesses and organizations are invited to take part.
Happening on Saturday, November 24th is Riverside's annual Shop the Neighbourhood day (12pm-6pm) inviting all local businesses and organizations to share good cheer! It is a great way to treat your clients and welcome new customers to your space. Here are a few ideas for how to take part (check out here all the fun things that happened last year)
Please let us know what you'll be doing by Nov 19th (marketing@riverside-to.com) to be part of neighbourhood-wide promotions.
Check everything that is happening in the neighbourhood that day here!

Doors Open 2019 Call for Proposals
Doors Open Toronto is a free weekend celebration that creates access to, heightens awareness of, and generates excitement about Toronto's architecture, history and urban design.
The 20th annual Doors Open Toronto presented by Great Gulf provides an opportunity to see inside some of Toronto's most architecturally, historically, culturally and socially significant buildings across the city. It returns on Sat & Sun, May 25 & 26, 2019.
Their theme this year is "20 Something" and focuses on our past and our future. It will be a celebration of the first 20 years while looking forward to our next 20 years. The program will have a special focus of integrating indigenous built sites and programming into our roster. The program will also focus on youth in architecture, design, built heritage and urban planning for the next 20 years.
Please, check here to apply!
Riverside Magazine 2019 Ad Opportunities
The Riverside Magazine is an exciting annual publication that highlights life in this happening Toronto 'hood.

Original articles put a focus on food, entertainment, public art, and local products and services that make up the bustling 10 blocks of the Riverside BIA. With eye-catching photo spreads, in-depth local business stories, and a handy directory, the Riverside Magazine is a must-read.

Advertising and advertorial opportunities are outlined in the 2019 Media Kit – contact the Editor, Giancarlo Pawelec to learn more!
Are you planning on hiring?
Employing Young Talent Incentive is a new provincial program through Employment Ontario that gives you up to $2,000!
For every youth hired, we give you $2,000. We give you $1,000 when the youth starts and $1,000 in six months. You hire the youth, we provide the money. The process is simple.
Check our blog post to get all the information you need!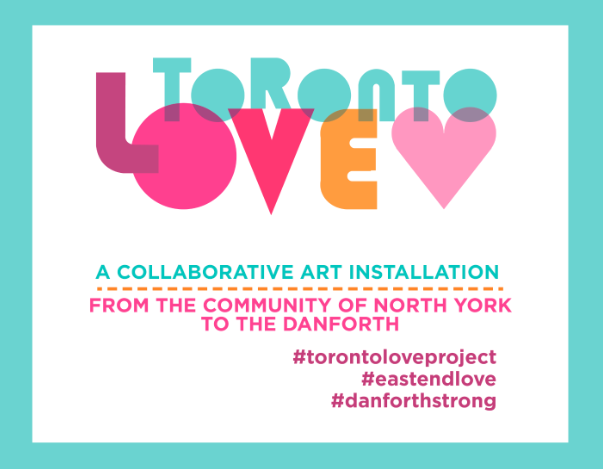 Toronto Love Project & Bells of Peace
On November 11th, 2018, communities across Canada will honour the 100th anniversary of the end of the First World War with Bells of Peace. Bells of Peace will encourage a bell to be rung 100 times in communities across the country, which will emulate the moment in 1918 when church bells across Europe tolled as four years of war had finally come to an end.
Please join them in appreciating the artistry and meaning behind the Toronto Love Project, and in taking a brief moment of silence at the time the bells ring. Materials will be available for community members to fill out their own messages on heart cut-outs, which will be added to the final display of this collaborative art installation.
Learn more here.
Peruvian Photography Exhibit and Pop-up Shop at The Riverdale Hub
Emerging local artist Isabel Lavandeira presents MANTAS, a colourful exhibit and pop-up shop celebrating the lives of Indigenous women from the Peruvian Andes. Shop one of a kind handmade textiles, jewelry, ceramics and accessories made in the heart of Peru.
November 24-28,
The Riverdale Hub
Free admission
Visit www.isabellavandeira.com for gallery hours and documentary screening times.
Comments
Comments. Tell us what you think...
Leslieville/Riverside News: #RiversideTO BIA Weekly Update