Check out this update from our local Riverside BIA
—
Featured: Thank You & Gallery from Riverside Eats & Beats Streetfest; Riverside Culinary Walk is June 16th; Welcome Back Pulp Kitchen!
BIA Notices/Reminders: Will You Take Part in the 'Sounds of Leslieville & Riverside Block Party'?; Riverside BIA Summer Planters Going In Today; Free Class Offer from Riverside's Framewrk Studio For Men's Health Week; Construction Notice for Sidewalk, Curb and Road Repairs on Queen E; Spaces for Lease in Riverside
Upcoming Riverside BIA Member Happenings
Neighbourhood News: Eureka Hub Toronto; Ralph Thornton Community Centre AGM
Thank You & Gallery from Riverside Eats & Beats Streetfest

Festival-goers in the Eastbound Brewing Beer Garden

Smoothie by bike station by Oma Chirpractic @ Munro

Bees' Knees Charleston Dance Lesson on Broadview

Outdoor Food Tasters @ Tabule

Fun Kids Activities @ Neel & Natasha's on McGee
Riverside Eats & Beats, in it's 6th year was described by local businesses, residents, and visitors alike as 'the best and biggest celebration yet' with:
8,000+ people enjoying the festivities in Riverside on June 2nd
50+ participating restaurants, vendors and retailers hosting events/ activities
15+ live performances by Toronto musicians and artists
4 street closures over the weekend packed with fun & meaningful activities and attractions
400+volunteer hours contributed to festival planning and execution
500 pints poured in our Eastbound Brewing Co. Beer Garden – a new activity for the festival!!
Riverside Culinary Walk is June 16th
As part of the Riverside Walks 2018 series, the Riverside BIA is partnering with Toronto Food Tours & local eateries to host a complimentary Riverside Culinary Walk on June 16th! This walk is a rare chance to sample some of the best of Riverside's culinary delights and meet some of the best chefs and bakers in the city. Needless to say this is one of the most popular Riverside Walk and is fully booked up!'Riverside Walks' is our series of complimentary local guided walking tours throughout the spring, summer, and fall (May-Oct). Free to the public, thanks to support from the Riverside BIA and our 2018 Walks Sponsor Team Sheppard RE/MAX Hallmark. Check out upcoming 2018 Riverside Walks here
Welcome Back Pulp Kitchen!

Owner Alex shows off the new space
After extensive renovations on their new space at 689 Queen St E, Pulp Kitchen re-opened with a soft launch on June 2nd for Riverside Eats & Beats! They are now open for business and welcoming everyone to check out their new space and menus.
Pulp Kitchen owner Alex shared that there have been lots of changes made, beyond the new address and look. They will be open 9am to 9pm to serve breakfast, lunch and dinner. They are revamping their menu to include a Sunday brunch (coming soon!). They are even applying for a liquor license to be able to offer a new twist on their smoothies. Of course, they have their always popular menu of smoothies that their customers know and love.
Please drop by and say hi and check them out, while picking up your fave smoothie or juice!
Sounds of Leslieville & Riverside Block Party: Will You Take Part?
Join in the fun with a new festival on the block – it's the Block Party at Sounds of Leslieville & Riverside!! We're so excited to partner with the Beaches Jazz Festival to further extend the celebrations into Riverside this year.
In addition to the great festivities for Sounds of Leslieville & Riverside in Jimmie Simpson Park, there'll be an amazing line up of FREE live music at Riverside street closures on De Grassi, Saulter and Boulton, paired with sidewalk specials and food tasters from Riverside's local restos and shops along Queen St East!
On Saturday, July 7th and Sunday, July 8th, 2018, the Riverside BIA will have a permit to hold a Sidewalk Sale in conjunction with the 'Sounds of Leslieville & Riverside' event, a part of the Beaches Jazz Festival's 30th Anniversary celebrations.
Sidewalk Sales: The Riverside BIA's permit will enable local businesses and approved vendors to animate the sidewalk space along Queen Street East from Davies to Empire Avenue, while maintaining a minimum clearance of 2.13 m from the face of the curb for unimpeded passage of pedestrians.
Outdoor Food Tasters: If providing food/drink as part of your sidewalk sale you must complete and abide by Toronto Public Health Form pg 2-5 (pls email completed form to marketing@riverside-to.com by JUNE 20th and we will submit).
At no time will Queen Street East be closed to traffic, however, there will be partial street closures of Boulton, Saulter and De Grassi streets within the Riverside BIA for the purposes of live music as part of the 'Sounds of Riverside & Leslieville'.
If you would like to take part in the Sidewalk Sale with either product or food specials in your sidewalk space or if you have any questions or concerns, please contact Jennifer at marketing@riverside-to.com or 416-466-8167.
Riverside BIA Summer Planters Going in Today
The Riverside BIA summer planters are being installed today! Thanks to the fab gardeners at Parkdale Greenthumb. You'll be seeing these gardeners around quite a bit as they water, weed and maintain beautiful planters for the BIA on a weekly basis throughout the summer and fall.
Besides the great gardening work they do, Parkdale Greenthumb has a unique business model as a social enterprise. Here's a bit more about them:
"We create permanent jobs and provide training for people who have experienced mental health issues, addiction and/or at risk of homelessness." – ParkdaleGreenthumb website
Free Class Offer from Riverside's Framewrk Studio for Men's Health Week
It's Men's Health Week June 11th to June 17th. Local studio Framewrk is parterning with Men's Health Network to offer a free Men's stretch class June 15th, 7pm – 8pm. This class is open to all men (members or not) and will teach stretching basics and provide an hour of detailed, hands on stretch basics.
Construction Notice for Sidewalk, Curb and Road Repairs on Queen E
Note from City of Toronto:

Contract: 17TEY- 102TU, Start Date: June 4, 2018, End Date: June 22, 2018.
The City will be repairing cuts made to the sidewalk, curb and/or road by utility companies, private contractors and the City when installing / repairing underground infrastructure (water, sewer, natural gas, cable, etc.). The repairs will take place on Queen St E from Davies Ave to Greenwood Ave. Work may include the closure of individual lanes or the entire road. Repair work will be coordinated with any maintenance work required with the City's right-of-way.
Property owners in the construction area are advised to remove any items installed or planted beyond the private property line and in the City-owned right-of-way that may impact construction.
Work Hours: Work will take place from 7 a.m. to 5:30 p.m., Monday to Friday, with work after hours and on weekends as required.
Questions? Leo Tulchinski, 416-435-7610, leo.tulchinski@toronto.ca
Commercial Spaces for Lease in Riverside
Prime Spaces for Lease along Riverside's Queen St East:
Available Aug 1, 2018:
733 Queen Street East, 550 sq feet with Basement and Loft
Contact 416-466-0313 x 2 or email athena@theoperahousetoronto.com

click to register


click for details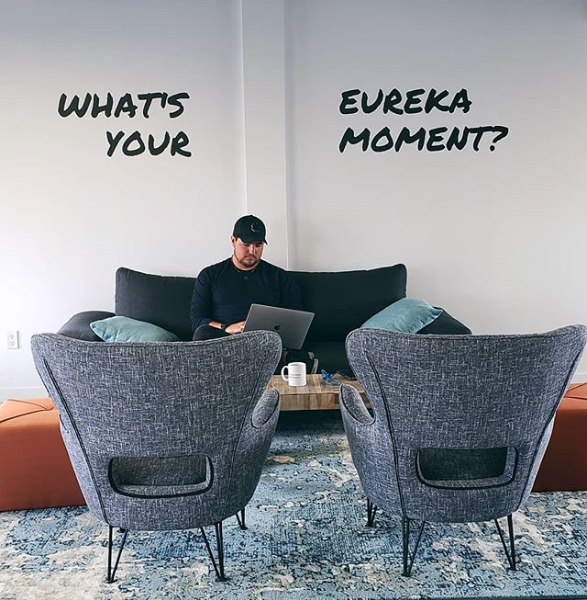 Eureka Hub Toronto
Located just south of Queen and Broadview in the newly-renovated Eastern Broadview Building on 359 Eastern Ave , is Eureka Hub Toronto. Offering 3 types of memberships: 1) General Coworking /Lounge Space, 2) Dedicated Coworking space, 3) Private Offices
Learn more at: www.eurekahub.com, @eurekahubtoronto, 416-275-5134
Ralph Thornton Community Centre's AGM June 13th
The Ralph Thornton Community Centre is hosting its Annual General Meeting on June 13th – you are welcome to join in at 5:30pm for registration and light dinner, and program begins at 6:30pm. In addition to the business of the Community Center, they will have special guest Clive Veroni to speak about: The Enthusiasm Gap – Why are the good guys losing group, and what can we do about it?
To RSVP, pls contact 416-392-6810 or email info@ralphthornton.org.
Comments
Comments. Tell us what you think...
Leslieville/Riverside News: #RiversideTO BIA Weekly Update