Dear Riverside BIA Members,
For May 27, here is the latest to help keep the Riverside BIA community informed throughout the COVID-19 pandemic. Previous editions of Riverside BIA COVID-19 E-news here.
Today's Topics:
Province Extends State of Emergency to June 9
Re-Opening Guidance for the Retail Sector, Ask An Accountant, and other FREE City of Toronto Webinars
Reminder: CECRA for Small Business OPEN for Applications and What You Need to Apply
Reminder: FREE Riverside BIA Member Care Kits are Here – Get Yours
Riverside BIA Weekly Member Zoom Call: May 28 focus on ShopHere
Who To Call/Quick Small Business Resources During COVID-19
Featured Riverside Businesses
PROVINCE EXTENDS STATE OF EMERGENCY TO JUNE 9
Today, the Province extended emergency orders until June 9, 2020, including:
A reminder: call the Stop the Spread Business Information Line if you have questions about the status of your business: 1-888-444-3659.RE-OPENING GUIDANCE FOR THE RETAIL SECTOR, ASK AN ACCOUNTANT & OTHER FREE CITY OF TORONTO WEBINARS
Stay informed and learn about available supports with free webinars on a variety of COVID-19 and business related topics from City of Toronto:
COVID-19 Reopening Guidance for the Retail Sector (Free)
Thursday, June 4, 11:00 a.m. – Register
Thursday, June 11, 11:00 a.m. – Register
Ask an Accountant – Applying for Government COVID-19 Support Programs (Free)
Wednesday, June 3, 3:30 p.m. – Register
Wednesday, June 10, 3:30 p.m. – Register
Business AdviceTO: series of free weekly online events for tech, retail, and female-led businesses
List of webinars and dates here
REMINDER: CECRA FOR SMALL BUSINESS IS NOW OPEN FOR APPLICATIONS
Canada Emergency Commercial Rent Assistance (CECRA) for small businesses provides relief for small businesses experiencing financial hardship due to COVID-19. It offers unsecured, forgivable loans to eligible commercial property owners to: reduce the rent owed by their impacted small business tenants, meet operating expenses on commercial properties. Property owners must offer a minimum of a 75% rent reduction for the months of April, May and June 2020.
CMHC is encouraging all eligible commercial property owners (check eligibility here) to participate in this program. As part of your application, you must provide rent reduction agreement(s) and landlord and tenant attestations. Applying for CECRA is a 2-step process: 1) Register and create an account, 2) Complete application and upload supporting documents.
Here is a link to information/ samples documents that commercial property owners will need to apply. The deadline to apply is August 31, 2020.
Need assistance? For questions about the CECRA program, please call 1-800-668-2642. Our elected officials: MP Julie Dabrusin (Julie.Dabrusin@parl.gc.ca) has also invited you to contact her office if you are in need of assistance.

REMINDER: FREE RIVERSIDE BIA MEMBER CARE KITS ARE HERE – GET YOURS
Riverside BIA Member Care Kits are here and FREE to ALL our small business members: whether just re-opened, re-opening in future, and all those who have been operating as essential. Inside are preliminary PPE supplies (gloves, masks, sanitizer pumps), cleaning supplies, lots of health & safety signage options, and a list of PPE & other equipment suppliers. See below for a detailed view and list.
.
We're happy to be able to offer this as one way to support our members. Please call, text or email us to arrange delivery or pick up office@riverside-to.com, 416-466-8167. A reminder, if you need a new OPEN sign (green or yellow) just ask.

RIVERSIDE WEEKLY MEMBER ZOOM CALL: MAY 28 FOCUS ON SHOPHERE
A reminder of our weekly Zoom drop-in for Riverside BIA members on May 28th. The focus this week is on ShopHere. Our special guest is City of Toronto Sandi.Koitsis-Zigomanis – the economic advisor to our BIA and current advisor on ShopHere.
Jennifer (BIA office) will also share about the new outdoor patio program the City of Toronto is looking to roll out.
WHO TO CALL/ QUICK SMALL BUSINESS RESOURCES DURING COVID-19
Have workplace health & safety questions? Workplace Safety and Prevention Services (WSPS) Free Hotline to Contact a WSPS Health & Safety Consultant with your questions Monday to Friday: 7am – 7pm, 1-877-494-WSPS (9777), Contact a Health & Safety Consultant
Wondering about the status of your business during COVID-19 or what re-opening Phase your business would be part of? call the Stop the Spread Business Information Line if you have questions about the status of your business: 1-888-444-3659.
Need to speak to an accounting professional? The Canadian Business Resilience Network (CBRN) has a free service to connect to an advisor from the accounting profession for questions about COVID-19 financial support options, help making decisions on recovery plants and more. 7 days a week: 8am-8pm, call 1-866-989-1080
Need advice on which COVID-19 programs to apply to? Try the City of Toronto's BusinessTO Support Centre
Need PPE? Try the Province of Ontario's PPE suppliers list or Riverside BIA's list of local Toronto PPE and business health & safety equipment suppliers
More free resources listed on Riverside BIA website (photography, business coaching program, website support, digital services…)
FEATURED RIVERSIDE BUSINESSES
Ruby Watcho re-opened this week for take out! Click for details:
White Lily Diner is taking order for weekend brunch delivery! Details here: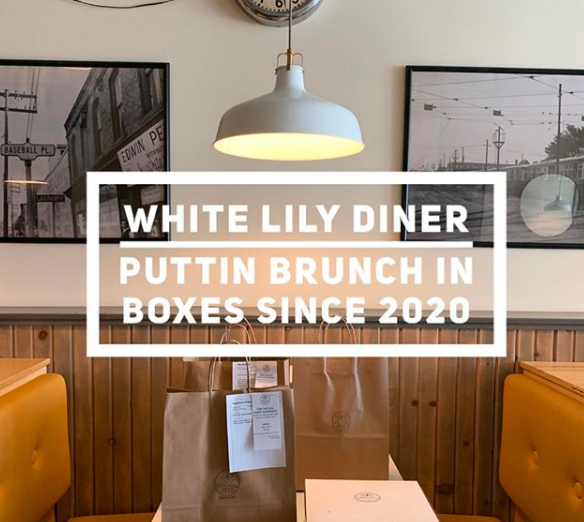 Comments
Comments. Tell us what you think...