ATTENTION artist and art enthusiasts, Project Gallery will be hosting a large-scale salon style exhibition from April 3rd – 13th entitled the SALON SHOW. The exhibition will feature a variety of affordable contemporary artworks that are 24" x 24" or smaller. There will also be an OPENING RECEPTION the evening of Thursday April 3rd from 6-10pm, and a CLOSING RECEPTION on Sunday April 13th from 2-6pm for the exhibition.
Artists interested in participating should submit up to 10 images to submssions@projectgallerytoronto.com no later than MARCH 31st and be prepared to drop off artwork signed and ready to hang on April 1st or 2nd. Artists accepted to the exhibition will exhibit up to 6 works and contribute a 50$ fee and 25% commission to the gallery.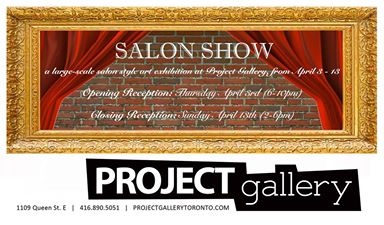 Comments
Comments. Tell us what you think...